About us
Wellcome to Medicine & Smiles
Well done. It is not just a slogan, it is our philosophy of life. Either we speak about our professional life, or about our own health, we like to do things well and to restore a good condition of life.
This is why we have built Medicine & Smiles Clinic!
Because we care, because we are professionals and we like quality.
We target adults but also children. We address to your family.
Medicine & Smiles is an ultramodern clinic located near Selgros hypermarket in Craiova.
We sought the most advanced technologies in oral-maxillofacial surgery and dentistry to give maximum safety of care.
We have created the perfect ambience to give you the most pleasant feelings of relaxation and good condition of life.
We formed a team of medical specialists permanently connected to the latest innovations in the field.
For the first time in Craiova, Medicine & Smiles provides comprehensive medical services of general dentistry, cosmetic dentistry, orthodontics, endodontics, pedodontics, OMF surgery, implantology, dental radiology and periodontics, in another vision.
All services are provided at the highest quality standards, in a comfortable and relaxing environment.
Once you have crossed Medicine & Smiles Clinic threshold, the atmosphere and approach which you will find here will lure you back anytime.
Whether you need treatment or you simply look for the perfect smile, the medical team from Medicine & Smiles will find the most modern, relaxing and suitable solution. And at the end of the visit, we will be the happiest,
if you leave saying… Well done, Medicine & Smiles!
DENTAL MEDICINE
OTHER SPECIALTIES
Maximum reliability, professionalism, highest consideration!
It's gorgeous! Good luck.
Young, professional and super nice team! Congratulations and resultful contentment!
Finally, in Craiova we hear about medical tourism! Congratulations on the idea and a lot of success!
Professionalism and dedication!
A modern clinic and a very well-trained staff!I recommend with great confidence.
I already benefit from the services of this clinic. Thank you for existing! Winter holidays bring you good health and a lot of happiness next to your loved ones!
A very modern clinic. A-plus... strongly recommend!!!
MEDICINE & SMILES
Ask a doctor
Online service "Ask a doctor" offers the possibility to quickly receive an answer to your questions related to our field of activity.
You receive an informed and personalized answer without your need to travel to the clinic or to make an appointment.
We guarantee the confidentiality of information both received and those sent to you.
However, our recommendation remains that of a meeting where we can find effective solutions for any medical problems that we can treat.
Please complete the form below and you will receive a medical response in the shortest time.
MEDICINE & SMILES
Media and Presentations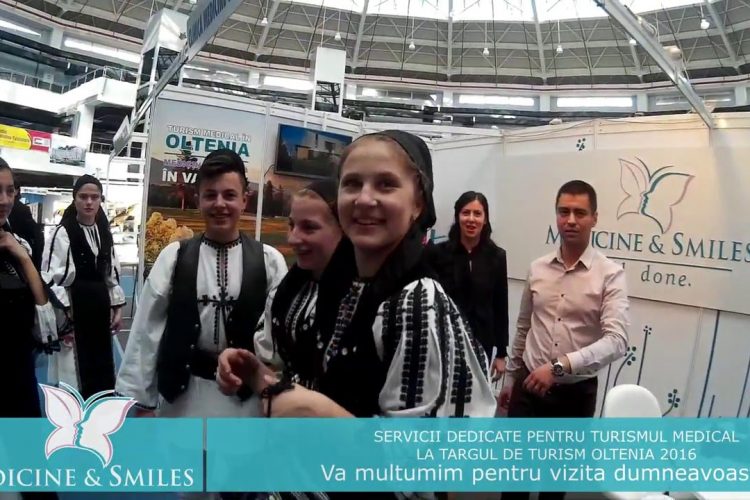 Services dedicated to medical tourism in dental medicine presented at the Tourism Fair of Oltenia.